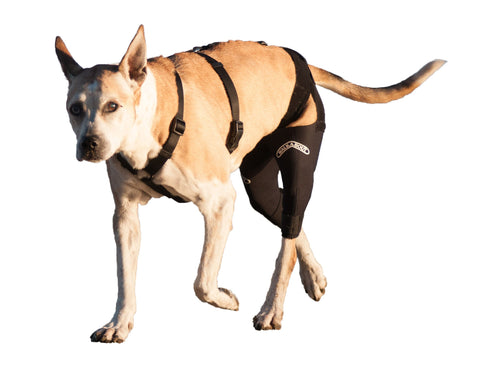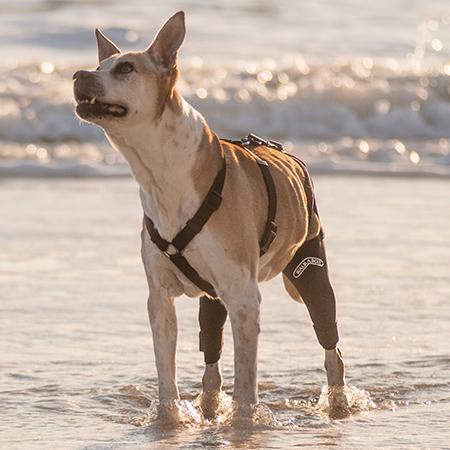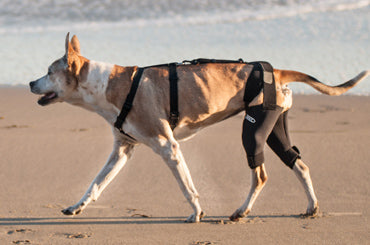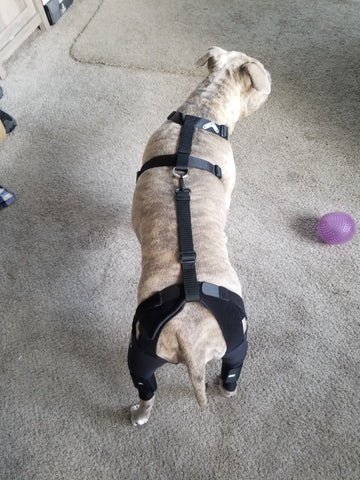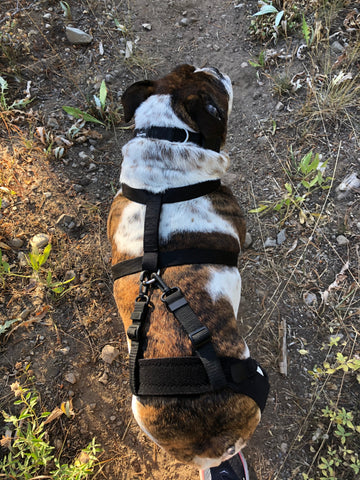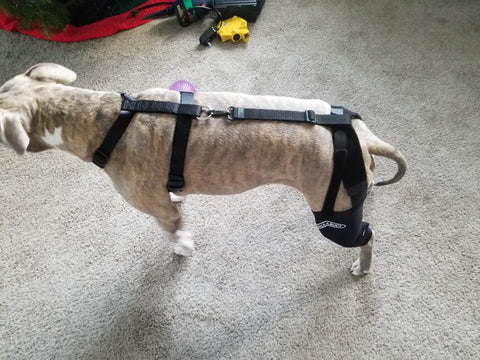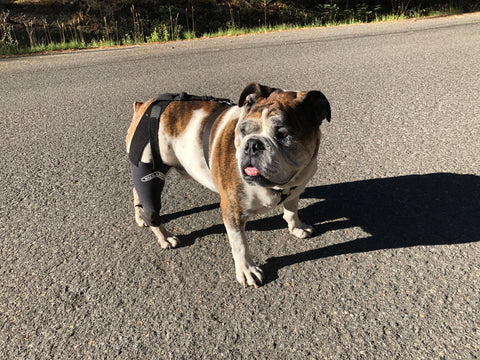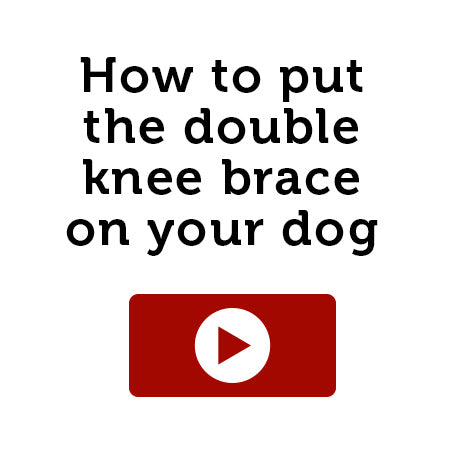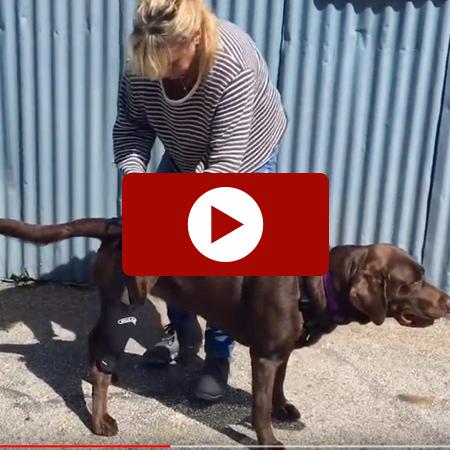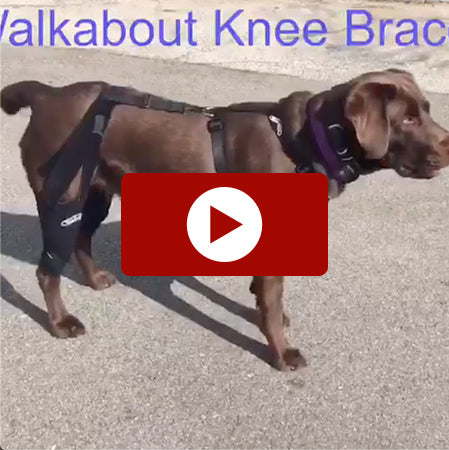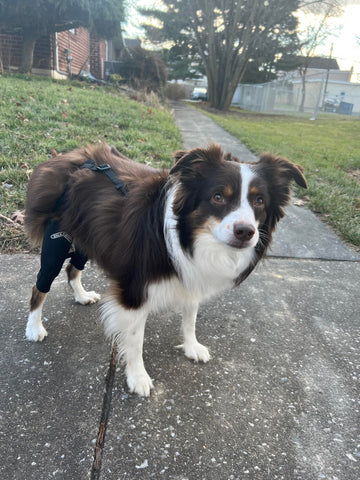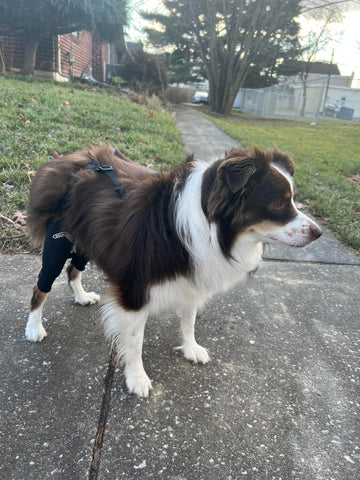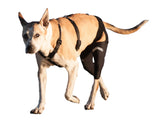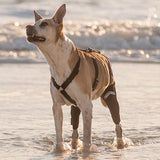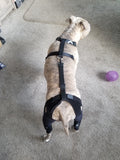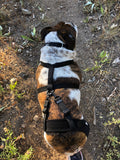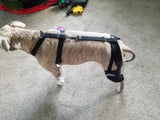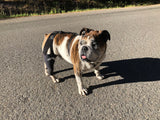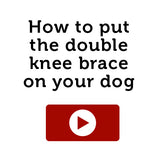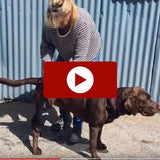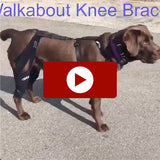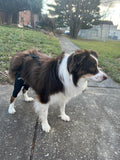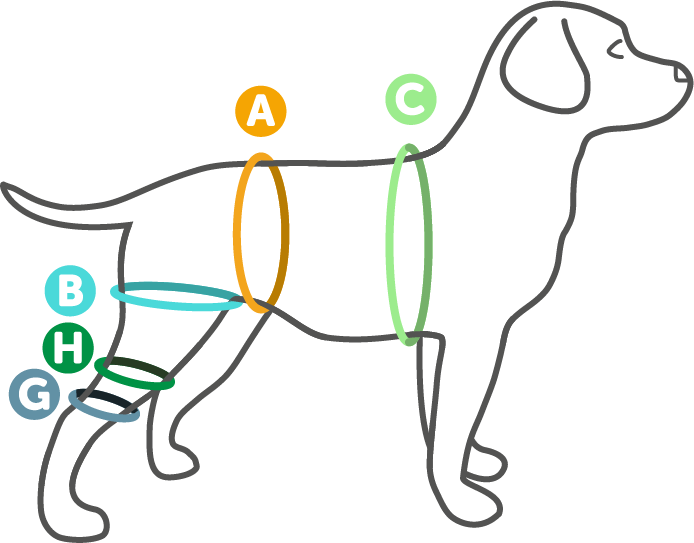 | | |
| --- | --- |
| A | Measure the circumference of the abdomen directly in front of the back legs. |
| B | Measure the circumference of the upper thigh (back leg) at the point where it meets the body. |
| H | Measure the circumference 1" above the knee. Dogs under 15lbs measure 1/2" above knee. |
| G | Measure the circumference 1" below the knee. |
| | |
| --- | --- |
| C | Measure the circumference of the chest directly behind the front legs. |
< back to catalog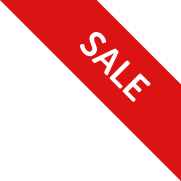 Double Knee Brace and Chest Halter
The Walkabout Double Knee Brace is specifically designed to support both knees in the event of an age or injury-related setback. It is estimated that 30-50% of dogs who tear one ACL / CCL will tear the other within a few years due to overcompensation. By bracing both knees, your buddy will not only benefit from the reduced joint inflammation and stress on the injured leg, but the added stability and overcompensation-relief for the other. In cases of dual knee injuries, this brace offers bilateral support by keeping your pet's joints compressed and stabilized, offering them a chance to heal and bounce back safely. 

This 3.0 mm neoprene compression brace has been used to rehabilitate thousands of dogs and cats with minor to major joint issues—ranging from overuse, cranial cruciate ligament (CCL) tears, luxating (dislocating) patella, and arthritis.
Key Benefits:
Keeps both knee joints compressed and stabilized to reduce pain and inflammation while increasing blood flow.
Protects your pet from further injury by reducing the impact of overcompensation on other legs.
Can be worn during times of activity and taken off while sleeping or when your pet will be left unattended.
Features two suspenders that anchor the knee brace to a standard chest halter for hands-free support. 
Using the knee brace with a standard chest halter is recommended.
Read More