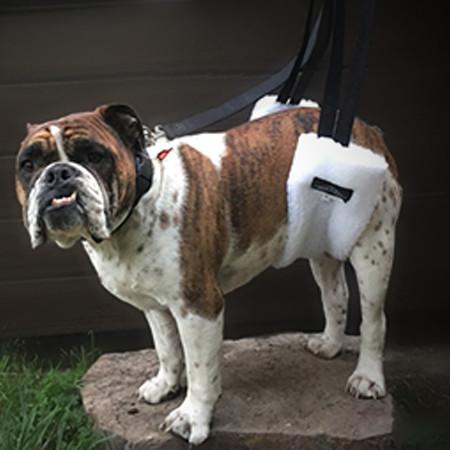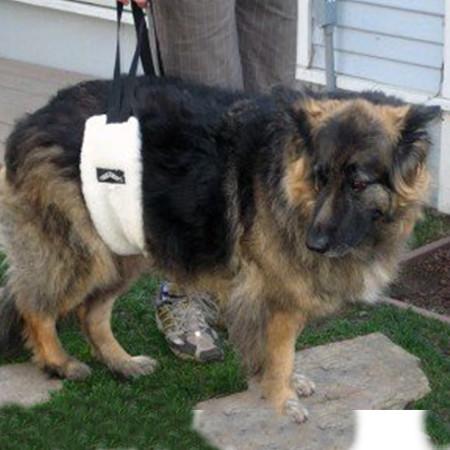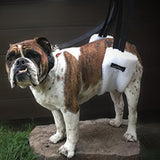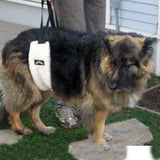 < back to catalog
The Hoistabout Lifting Aid
Lift and assist big dogs
The Hoistabout Lifting Aid is a comfortable, quick lift dog sling, perfect for on-the-go mobility assistance and rapid hind leg or hip support. Designed to provide weightless Walkabout support from down under, this harness is the simple and effective solution for managing your pet's weakening back legs, painful arthritis, hip dysplasia or knee injury relief, recovery from surgery, IVDD, and other mobility issues whenever and wherever. With a Hoistabout on hand, you and your handicapped pup will be ready for whatever the day brings. From climbing stairs to safely assisting them with cars, couches, and more, this ultra-soft Sherpa fleece harness will equip them for the journey ahead. 
Key Benefits:

Quick to lift, put it on in a jiff! Designed for easy on-the-go mobility. 
Made with Sherpa fleece for soft, comfortable care anywhere.
Offers balance, stability, and lift assistance to large dogs, small dogs, and cats alike.
Provides weightless Walkabout support from down under.
Best for helping pets move about the home, going for walks, or accomplishing elevated tasks like stairs, cars, and more.
Hoistabout handles are not adjustable due to safety concerns. Each size will come with a set handle length as follows:
Small: 21" 
Medium: 15" 
Large: 12"
Custom length handles can be made for you. Please contact us for more details.
Read More