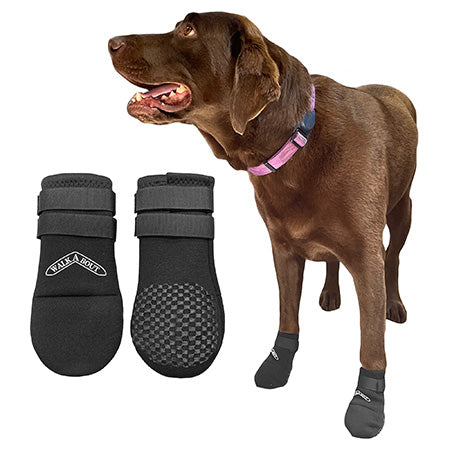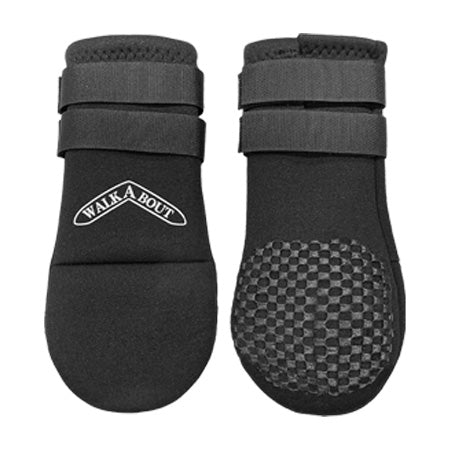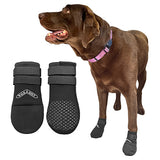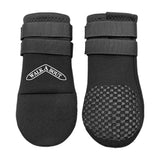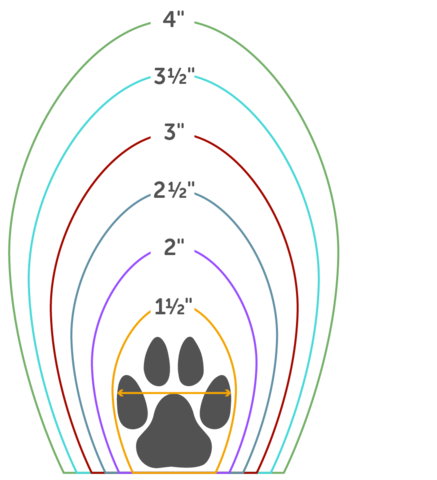 Measure across the widest part of the paw when the pet is standing.
tip: gently lift the opposite paw so the paw being measured lays flat on the chart
< back to catalog
SLIP-EZE Grip Booties
Weak legs are a common problem in senior pets who tend to gradually lose muscle mass when they get older.

As pets age, they often become less active, and this causes a reduction in muscle strength and endurance over time. While many physical conditions can cause leg weakness, chances are, most pets will experience weakening leg muscles as part of the aging process.
Unfortunately, this process can also lead to frequent instability and loss of traction on slippery surfaces, causing the front and back legs to collapse from under a pet, and may result in more serious injuries that could have otherwise been prevented.
To address this issue, Walkabout Harnesses has developed the SLIP-EZE grip, no-slip booties to help pets stand tall, stay sturdy, and maintain balance while regaining their independence!
SLIP-EZE Grip Booties are designed for:
Gripping Slippery Floors

Maintaining Stability On Older Aging Legs

Preventing Accidents Due To Loss Of Traction
SLIP-EZE Grip Booties are made with:
Fleece Lined Neoprene Booties 

Rubber-Soled Exterior
Velcro Fastening Strap(s) To Secure Position

Warning: Slip-Eze Grip Booties are indoor-use only, and are not intended for the outdoors. Please ensure that logo is facing forward at all times for best results.
Read More